Another great week of fantasy football action in the books and another great week of sports in general. Literally had everything you could want as a warm-blooding American sports fan…
The NBA is back and in classic mid-season form…
The Cubs almost lost the World Series with absolutely bananaland decisions from their manager and late game Indian home runs…
BUT someone the gods finally took pity on the Cubbies…he summoned some rain and they took care of business in the 10th
Bills mafia did Bills mafia things and in the midst of getting fisted yet again by Brady they pulled the classic "throw a dildo on the field" gag…
The Eagles blow another game in front of the whole nation on SNF so that was par the course for me…also never been happier than when Alex Smith got wrecked and knocked out of the game. Fuck him and all of the check down bullshit he stands for
Finally the Green Bay Packers rookie WR Geronimo Allison gave the internet the greatest series of tweets in the history of tweets and the internet…
Excellent contributions and about what you'd expect from a black dude named Geronimo.
And finally I may be saving America's youth 1 day at a time (not all heroes wear capes) but I definitely think I've found a solution to this problem that you didn't even know was a problem…
Solution = taters. You're welcome.
Pray the Forte Away vs. MoreDuuudes!
In a matchup of the 2 guys that probably paid the least attention to the draft…Conroy because he was absolutely obliterated and Anthony cause he was busy booking castles for his trip to Europe…
Anywho Tony brought the pain and beat Conroy in a game that was pretty close until well it wasn't. Anthony's squad was excellent from top to bottom minus James White (3.9); led by Gronk (19.4) and his 69th touchdown, Allen Hurns (19.3), and Dick Freeman (19.8). So Anthony get's back to his winnings ways which still doesn't feel right saying. As for Conroy, his forgettable season marches one despite getting big games from Forte (22.8), Kelce (19.6), and Gordon (17.5). Despite those big games, all the dude power from Anthony's squad let by the meathead leader of dudes (Gronk) was just too much man for Conroy to handle…All Hail…Gronk?
Multiple Scoregasms vs. Harambe Did 9/11
HAS ANYONE HEARD FROM MICHAEL???? SOMEONE NEEDS TO CHECK-IN WITH HIM! I'm legitimately concerned he may have off'd himself after quite possibly the worst loss in fantasy football history when playing against a team named after a dead gorilla. For the Heimdall's, nobody went nuts but got very nice games from AJ Green (16.6), Crabtree (14.8), and Gio Bernard (13.1). As for the presumed dead Michael, 2 huge games from Matt Ryan (24.42) and Jordan "always concussed/future CTE lock" Reed (20.4) but otherwise didn't get much of an effort from anyone. Michael was down about 8 going into SNF with Cole Beasley going who got him 7.3 which meant all he needed was like 1-2 points from Jordan Howard on MNF. In a last second panic move Michael at 8:06 dropped Howard and picked up Ka'deem Carey…this move would turn out to be the move that drove Michael to the bottle and then ultimately the grave as Carey only mustered up .3 points. Meanwhile Howard was TORCHING the Vikings defense to the tune of 28.2 points. I don't say this often but I'm legitimately sorry for Michael…I think…I'm not actually sure. Soooooo close Michael…sooooo very, very close…missed it by thaaaaaat much.
Whatever in a twist of fate the gorilla wins this time…RIP Michael…Harambe lives.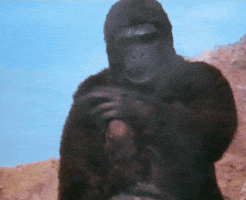 HoneyFunchessOfOats vs. Overkill Killers
Que up Ben complaining about losing the team that put up the most points…not much Ben could of done here though with Brian getting a monster game from Dick Carr (35.82) plus help from Dick Murray (19.3) and Pryor Sr (15.1) (congrats on the sex). Brian finally had a good football weekend I'd imagine since his fantasy team won and his shity again Panthers won too which is nice to see. I wasn't sure if his players would still play for him after they found out he quit on his appendix cause once players see you quit on something they'll quit on you and that's how you lose a locker room. As for Ben well he started Alex Smith (9.98) so he lost and deserved to lose and Ben knows this cause fuck Alex Smith. Ben's team actually put up a good fight with Jeffery (14.3) finally finding the endzone with Cutler back, Riddick (23.3) doing Riddick things, and Quincy Enuwa (17.3). It was his Kicker (2) and Eagles Defense (3) that let him down when he needed them the most. Can't win with that kinda performance…
Bag of Tricks vs. JPP's Finger Bang
Not much of a surprise here folks. In a matchup reminiscent of when Hitler and the Nazi's steamrolled into Polland, me and dem boys took care of business led by Tommmmy Brady (30.1) with strong support from JStew (22.5), Eifert (20.7), and Dez (19.3). As for Kyle he trotted his ragtag crew out on the field and battle but it wasn't pretty. Jordy (17.4), Dick Johnson (14.3), and Gore (13.2) had nice games but it was a struggled from the other positions…exhibit A…Mark Ingram (-1.5). Not good, not good. Word on the street is Kyle's goal is to not come in last, not sure if he can pull it off but if I was a player on his roster I'd definitely call a players only meeting because those always turn the squad around. As my squad, things are looking up and we're celebrating by touching dicks just like guys being dudes do…
Saved by Odell vs. Bronco Trolley
Praise Allah, Shiva, Vishnu, Zeus, Jupiter, Buddha, Odin, and Amun-Ra…Chris finally fucking lost. Just like Napoleon was the savior of the French Revolution, PJ saved the league from the tyranny that was Chris and his undefeated season. However I NEVER would've thought all we had to do to beat Chris was start an RB that was inactive and get 0 points from him. Next level, big brain move by PJ. Chris got huge games from Rodgers (33.84) and Amari Cooper (29.3) and games in the teens from Crowell, Diggs, J. Rodgers but didn't get enough production from elsewhere to keep the winning streak alive. As for PJ it was big games from Crowder (21.2) and the Denver Defense (22) with the support of 18 point efforts from Matthews, Sanu, and Winston. Big win for PJ and Chris's perfect season is finally over…
C'Mon Son!
#GoTrumpGo #NoCuntNo #We'reAllFucked #C'MonMurica #IStandWithTheMadKingBurnThemAll
Everyone enjoy Week 9 and pray for me cause I've had a cold for like 3 weeks and pray for America cause…well you guys know.